It is beautiful this morning.
I skipped walking
and
I am dressed for the day whatever it may bring.
Today, I am  addressing Thankful Cards.
Many of you already know…
that we do not send Holiday Cards in December…
 we send Thankful Cards in November.
This year, Larry created the card…it was his year.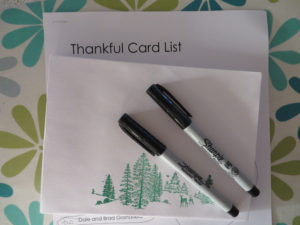 You may not hear from us often,
but please know how much you mean to Larry and me.
What do you do to thank the wonderful people in your life?
I am not quite sure I do enough in the thankful department….
*****
Please, have a happy Thankful day.
It is such a tearful day today…..
perhaps it is addressing these awesome cards? 
Life is such a gift.
Love you.
Me.