Fact.
I am at my work table.
I am nauseated and light headed.
The back patio doors are open and birds are singing.
Libby is snoring.
Larry is on his lap top checking air fare to places far away
and
life is amazing.
All facts.
Except this tid-bit.
Last Saturday Larry and I went to Matilda's soccer game.
After the game,  Josh treated us to frozen yogurt.
I had not had ice cream or yogurt in a year,
so naturally, I was a glutton.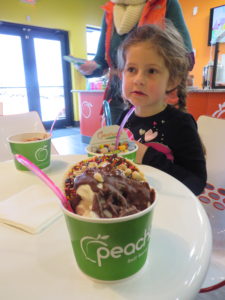 This is my yogurt cup.
filled to the brim with all things good.
Lauren believes that my I became ill this week
because I ate to much yogurt.
FICTION.
But I have to admit, even looking at this yogurt bowl
makes me feel sick.
Looks like no yogurt for me,
for a long time.
And that's a fact.
Love you.
Me