Last week, on Instagram, I posted a photo of The Cottage orchid.
It is reblooming again and beautiful.
Yesterday a friend asked about it
and I thought that I would post today's
photo.
***
Last week, Matilda gave Larry and me a gift.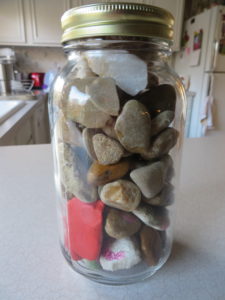 A jar of rocks, hand picked for us
to make us happy.
This is a gift, a true gift, from the heart.
Sometimes, people touch us in the most wonderful way
and do not even realize it.
Like a six year old girl, named Matilda.
Have you ever given someone a gift similar to a jar of rocks?
Love you.
Me.