I am up early and feel wonderful.
Birds are not even singing, it is that early.
Today is a busy day for sure.
I must return to the hospital for tests.
But…..
I have been keeping my hands busy at home.
I have had no desire to paint yet,
but I have been working.
There is a little girl in our life who will be joined
by a new sister this summer.
I am taking advantage of this time
to get things made for the arrival.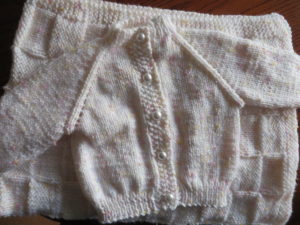 Baby Sister sweater and blanket ~ done.
***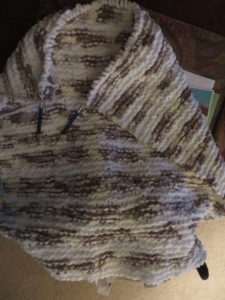 Baby Sister bath blanket made of luscious chenille~ Half done
***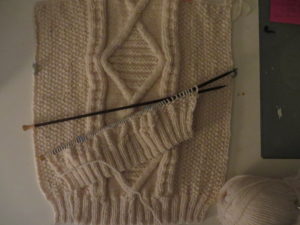 This is  the Aran sweater for Big Sister.
I started the front yesterday.
All of the different stitches are my favorite thing to knit.
What is it they say about busy hands?
Thank you for all of the messages and calls.
Emails and texts.
Life is very good.
Love you.
Me