It is quiet in the house today.
I have been making paper, which is not exciting in the least….
but BOO, my new gnome, is keeping an EYE on things.
Ironic isn't  it?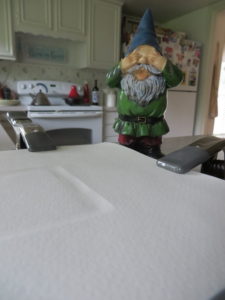 Keeping a covered eye on my progress.
Boo, is a gift from Rosemary and David.
Rosemary is a dear, sweet friend
who seems to know when I need a smile.
Don't you love friends like that?
Rosemary is a gem.
*****
I sit at my work table with my lap top
to post entries on the blog.
I face South East
and this is what I face.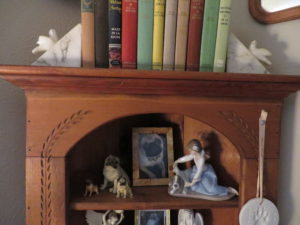 It is a small hand-made corner cabinet
that we bought in Memphis, in 1980.
It is a good example of Folk Art and I love it.
Libby now, resides on the top shelf.
Her ashes are elsewhere for the moment,
but this is her spot for now.
****
I wish you a happy, wonderful weekend
and
may all your moments be happy ones.
Keep a covered eye on things for me!
Love you.
Me