Happy Good Friday.
It is a spectacular morning in Texas.
My heart is filled with…
I am not sure what it is filled with,
 I am content and joyful.
***
Last evening,
Larry and I bundled up a picnic
and went to the Dallas Arboretum.
A couple of thousand people, came also,
to see a James Taylor cover band .
After all that Champagne, it could have been the REAL JT.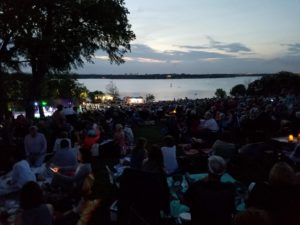 We had a lovely evening, drinking Champagne
and
being together.
***
This week-end is packed with Easter awesomeness.
Be safe, be content and remember
He is Risen.
Much Easter love to you.
Me