I am struggling with the blog today.
There is no sweet story or funny moment to share.
I just feel agitated.
This new web site is dreamy.
I love it and love the complexities of it
but, as you might have noticed, I have not made it "mine" yet.
I did  try a few things when I was not feeling well the past few days.
BAD IDEA.
I should never work on a computer when sick.
So here I am, wanting to change everything I did.
And, another thing, no one hardly ever leaves me comments,
except the idiot spammers trying to sell me something.
HELP! How do I block them?
I am just thinking out loud…
I just wanted to thank you for being patient as I figure
the new site out.
*******
A Valentine gift arrived Tuesday night.
He was in a huge box and was expected.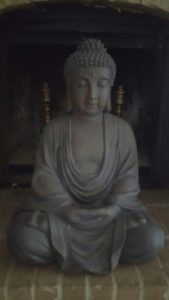 He will live in the gazebo
and
create a spot for me of calm and where I can
practice yoga.
There are 18 days till Valentine's Day
Today's love quote:
Love has no uttermost,
as the stars have no number
and the sea no rest.
~eleanor farjeon~
I wish you a calm, pleasant day
filled with your favorite things.
Love you.
Me