Good morning.
It is early Friday morning,
I am heart broken  and missing my dog.
 Eating and sleeping is out of the question.
I was not going to post on the blog today,
until good friends commented about Libby's best friend.
Ajax.
Libby and Ajax were very close
and
they loved to terrorize the neighborhood cat.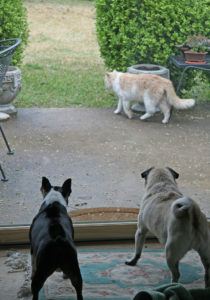 Ajax is on the left, Libby is on the right
and
Garfield the mean cat is teasing them.
Bobbie, Ajax's mother wrote reminding me
that all three of these characters are together in heaven now.
Some things just comfort a soul beyond words.
I am tired.
I am sad
and
I have amazing moments that border on a crying jag.
This too shall pass….oui?
Love you.
Me.