Gladys Kravitz
{remember her from the TV show, Bewitched?}
lives across the street from us.
She has watched and
gossiped about us for 20 years.
Yesterday, she stood on her driveway,
smoking a cigarette.
Wearing mens hunting clothes and boots.
She said:
You put your garbage down by the street early.
Why aren't you out of town?
I said:
There is a dead,  stinky rodent in there
and wanted  it away from the house.
She sneered and went into her house.
People are wonderful.
We are all  different and colorful.
But, I wish some of us would mind our own business.
***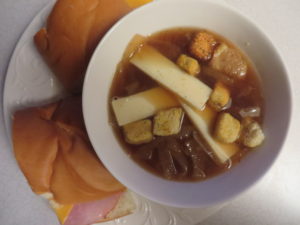 For dinner last night,
I made French Onion Soup
and small ham sandwiches.
It was the perfect ending
for a day filled with
Cleaning, donating and  reorganizing.
Love you.
Me