*Breast cancer fact : 62% of breast cancer cases are diagnosed at a localized stage, for which the 5-year survival rate is 99%. This is where my breast cancer fits in. I was stage one prior to surgery. During surgery they discovered that the tumor was much larger. I then became stage two in a matter of moments. Early detection is life saving.
***
Yesterday, Pink and Paddington went with Larry and I to the fabric store. I am making a Halloween costume. What I have planned needs blue and red fabric. Bet you cannot guess.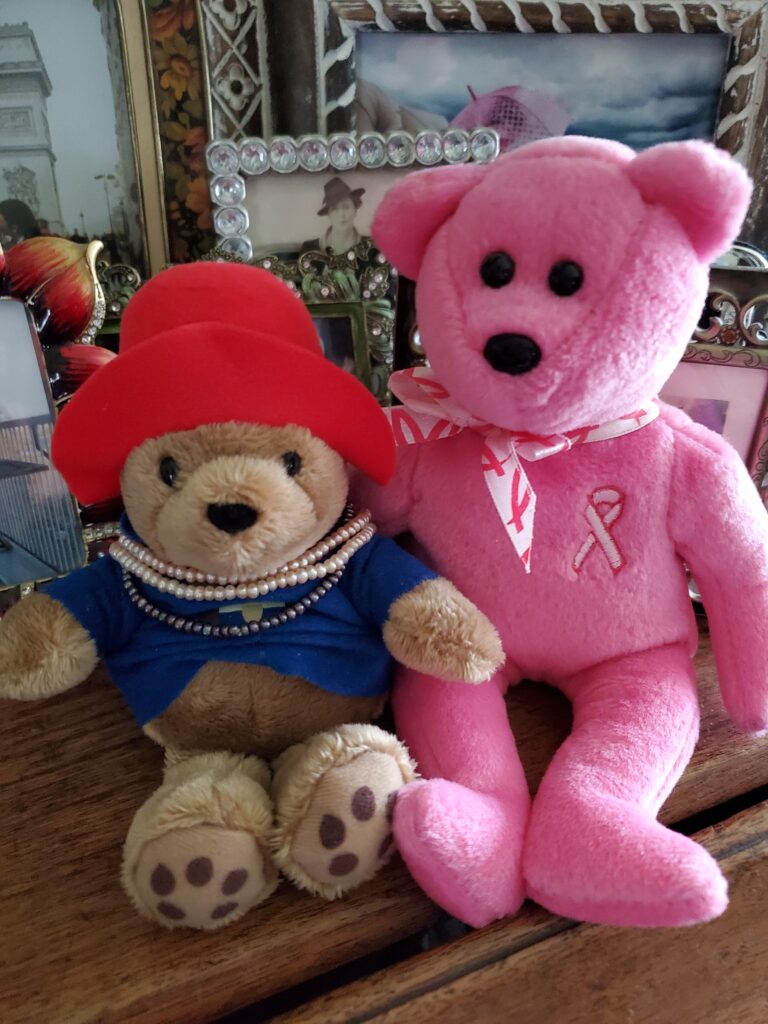 You can guess, but just don't guess out loud. The little Paddington in the photo is from Paddington Station in London. His pearls are from Poip'u Kaua'i. Pink was given to me and it was a special gift. They are my treasures.
There is a Christmas gift in progress, on the floor of my work room, it is almost finished. When it is complete, I will start to make my Halloween costume and then I have one more Christmas gift to finish before November. My goal: To finish all hand work before going away on holiday. HOLIDAY!!!
My back has been hurting and I feel like I have taken on to much. Making two huge Christmas gifts this year and there are 85 days till Christmas! It seems so far, but it will be here sooner than we imagine.
The sun is streaming into the room. It is 80 degrees outside. Already I have a little fan blowing on me as I work at the sewing machine. It is an interesting morning. I feel tired but inspired, with a get things done attitude.
I wish you a happy day. Please fill it with all of the things you love. That way, if something unexpected happens, you will be surrounded by love.
Love you beyond PINK RIBBONS.
Me.